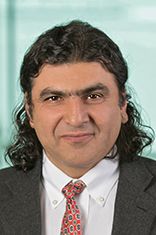 Last semester, Director of the Hanlon Lab, Professor Ionut Florescu, was featured in an article on current job market trends. The article was originally published on Zippia, a website that helps individuals discover new jobs and career paths that are right for them. Zippia spoke to professors and experts from several universities and companies to get their opinions on where the job market for recent graduates is heading, as well as how young graduates entering the industry can be adequately prepared.
Question: What are the biggest trends we'll see in the Research Coordinator job market given the pandemic?
Dr. Ionut Florescu: When the pandemic started in March 2020 the job market drained. I had students with internships blocked and job offers rescinded over night. The fact that we had 87% employment 3 months after graduation for the program I am leading, during pandemic times I think is a testimonial of the strength of our career development team. This changed in December 2020 and I believe this spring we will see a return to normality. We are already doing better than last year and the semester is not even finished.
I am seeing all interviews going online even for companies that are next to us. So, in theory at least, our advantage being right next to Manhattan and Jersey City is not as prominent as before the pandemic. Yet, in the last two months our students are doing as well as before the pandemic. The reason, I think they keep coming back to us is tradition and the fact that our graduates are very technically sound.
Our undergraduate program Quantitative Finance was completely unaffected by the pandemic. The reason is the students typically get offers in their third year. So seniors were unaffected and juniors are now getting offers. This is because the QF program is extremely technical. It probably is the only program in Business Schools in US where students are taking Calc I through IV, and more probability and statistics than any engineering program. I think going forward, those traits are going to become the norm not the exception. I believe every graduate in the future will need to know how to program.
Question: What soft skills should all Research Coordinators possess?
Dr. Ionut Florescu: I believe in terms of soft skills, every graduate should be able to explain the results of their complex models to someone who isn't technically sound. So, presentation skills are extremely important. Then the capability of approaching a presenter at a conference or workshop and ask pertinent questions about what they just presented is really important. We require all our students to not only make presentations but also ask questions during other teams' presentations. I believe the most important thing as a teacher in the course is to criticize them when their presentation is not crisp or when the question isn't clear or appropriate.
Question: How have salaries changed over time for Research Coordinators?
Dr. Ionut Florescu: Our programs are producing graduates who work in the financial services industry, and our salaries are high compared to other domains. However, in 2019 the year before the pandemic, it was the first time when our graduates were attracted to the technology sector because the compensation was higher. It was also the first time when our Business School data science programs had a higher stating salary than the traditionally finance programs. Thus, I saw a shift in the skills, with statistics now being a required skill and not a "good to have" anymore. I do believe this trend will continue for at least a couple of years. The salaries will go up going forward. They did go down in 2020.